A perfect gathering spot like living room decoration won't be complete without a sectional sofa. But difficulties faced on how to arrange sectional sofa in living room while you have not elevating knowledge of it. If you arrange sectional sofa in living room rightly creating relaxing atmosphere for enjoying family and friend's gathering, reading or watching TV pretty comfortable.
Being large pieces of furniture sectional sofa placing in living room this needs planing and measuring step by step which also help to organize the other furniture per living room area and update the space without adding or removing things. Sometimes homeowners get confused to buy and place them whether they have small or larger space, but our this guide make you clear with straightforward way which only enhance the beauty of your home.
Beside seating capacity a sectional sofa in living room its own self a decorative addition. We will provide you the entire process with step. Helping to position correctly and solved your dilemma with great satisfaction no matter you have different size, style and design of sectional sofa.
How to Arrange Sectional Sofa in Living Room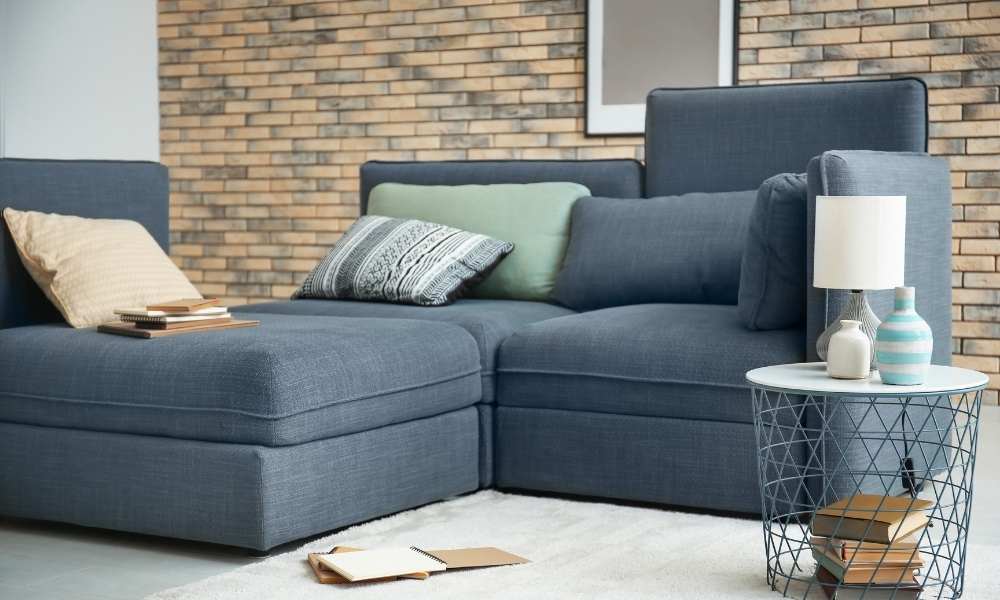 At the very first of this guideline you should make a plan which you will follow to reach your goal. We are making as find focal point of your living room, measure the room, think about materials, size, size and design, consider. Needing and convenience, add furnishing things and move to the finishing touch. These steps will finally make your space welcoming. To organized without taking any interior designer suggestion or making any mistake.
Find Focal Point of Your Living Room
Although this bigger piece of furniture easily make a focal point, yet you can get the most fair one. By standing in your living to notice where your eyes struct usually. While most of the cases' fireplace, head to the TV, large size hanging lighting option. art piece to catch.
Homeowner like to choose natural focal point as outdoor view. If you are one of them think about the purpose of the room. As example to make focal point. The TV area as entertainment center in the room for watching movies with your friend and family weekly. After busy days arrange your sectional sofa to keep the placing of TV.
On the other hand when you have chosen window to enjoy natural scenery arrange them focusing the window. If you are really confused with your sectional sofa. think the fireplace or other larger spot to make your place much cozier.
Measure The Place
No matter you are buying a new sectional sofa or update the arrangement of it in your living room. So you should think the room size which can accommodate the piece keeping other furniture coherent and clutter-free. In this stage the plan will be different per the size of the room. You could not over-crowded your small living room's seating area with large one. When you are planing for larger room several factors like its function. Coherent or contrasting decoration effect need t consider. Most of the large living room sectional sofa placed as a partition to keep thing well organized. We suggest taking help to map out spaces to get the accurate idea of size. Without compromising airy and eye catchy look.
This is another great idea design as laying down newspaper on the spot to mark the place where you want to arrange sectional sofa. Once you did the task of measuring with a measuring tape need to follow some professional strategies. leaving minimum 37 inches around the sectional sofa to move this around per different need but if your room have more space try to increase this 43-49 inch of space around the sectional for more possibilities for arrange then to use those space conveniently.
The rule of thumb is keeping space between the front of each seat of the sectional and ottoman. Coffee table more than 19 inches and less than 27 inches. Space for small end table on each side of the sectional is only for larger living room. For small size room the option of ordering a custom-built sectional
Choose Material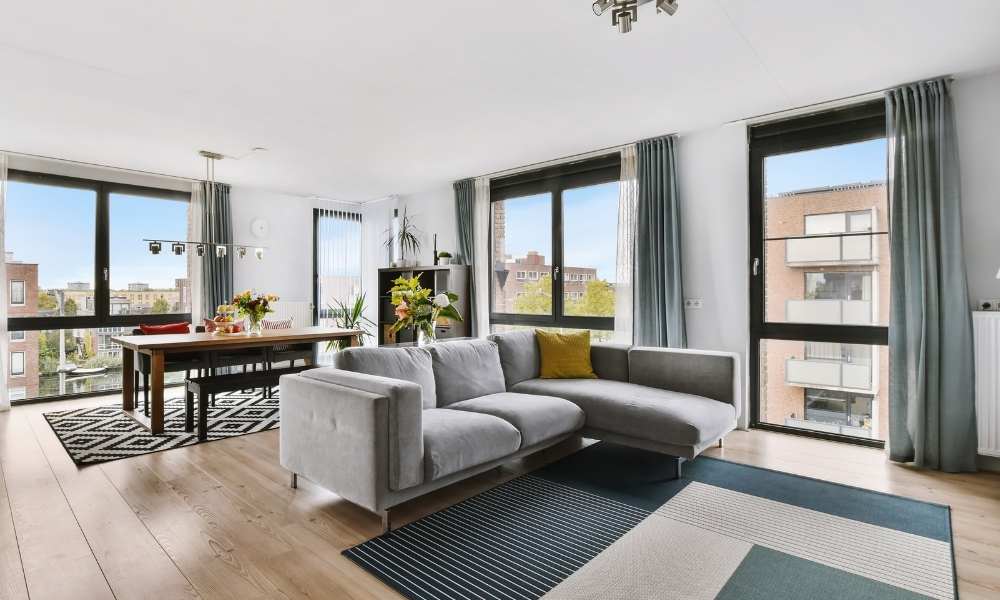 In this context you should have thought several factors to be right even before planing anything. These seating option are available with various choices, it would not hard to find the best match for your requirements. Depending on your relaxing them of living room choose deep-seated sectionals with a chaise lounge while color or shade can light. It looks great per your wall to other furniture types.
When you have kids or pet you should avoid white or light colors to get rid of stains and fur plus consider upholstery. It can clean up all these spills effortlessly. For polished and classical look leather sectional sofa will unbeatable and sleek tones with clean lines bring modern look in your living room. Other furniture pieces depending on your convenience. To use them like a bookshelf or display cabinet or make a visual point with family photographs. Antique pieces try to balance with overall decor. When living room have small space do not make it overcrowded while less furniture with sectional sofa makes it airy and spacious.
For larger room dark colors or bold pattern makes it orderly one with another. Depending on your various tone need to update your sectionals like adding accent pieces – bold color or pattern rug or pillows to fit with any decor without making it clutter.
Go Through Another Study
You could not get perfect look from mapping out, purchasing and placing Rather trying to find out the appearance of the entire room from the entry point and in this way take help your neutral eyes or others opinion.
From this you will get clear idea for bringing the seating area while keeping the open side of sectional sofa faces of the entrance to the room to give it welcoming look for
Guest of Your Home
Sometimes following this trick won't possible for odd space. The back of the couch comes face the entrance to make balance put a narrow table with couch back. Add decorative pieces like small lamp, books or greenery item on the table to create illusion and appealing even with oddities.
Think About Sectional Configuration
These are come in different depth n width of seat. Helping to arrange them in various style to enhance the beauty of your living room. Here we will discuss the most popular 4 shapes such as L shape, shape, Sectional with chaise and cuddle corner. If your sectional sofa is L shaped it have one side longer than the other side .
When you have larger living room these sectionals are ideal for you. The U-shaped look like exactly U, for awkward space this could recommend which you can choose this for larger solace like basement or family seating area. Some of this has one side can be shorter than the other. With a narrower table back of the table is complimentary when you have chosen a sectional with chaise.
This could be consoling for small space. Corner have 90 degree or round corners to make cozier place for two persons. Try to avoid pushing this furniture against the wall rather placid in the middle of room. Sometimes it could be different when your living room is small.
Move to Appropriate Furnishings
After finalizing any sectional it is time to add the right furnishing. Though we have already provides required tricks in every step, these will highlighting for arranging sectional sofa in living room. U shaped sectional sofa will go with a square or round coffee table placing in front of the main couch. If possible two chairs or a loveseat to bring organized look overly.
See More : Best Floor Lamps for Living Room
Office table are great mach with the sectional with chaise. If the have more have you can add chair against the chaise for more guest. Ottoman with storage space inside must have considered if you are planing for small space, yet this could additional seating space or putting feet over it for more relaxation. Plus this could be reliable place to hold tray of drinks and snacks when you are serving a large group at once.
Give Finishing Touch
If you are not still sure about arranging sectional sofa. living room you may remove this any angles or adding/replacing table whether it seems crowded. According to your need and convenience to use. This time you can put one lamps or antique piece over the main couch or side table.
Highlighted Tips For How to Arrange Sectional Sofa in Living Room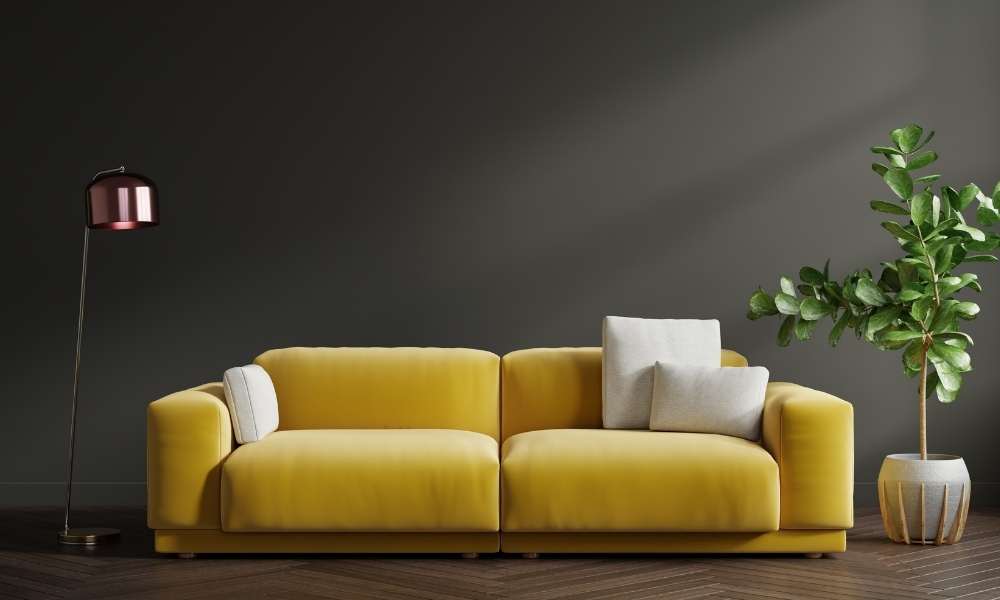 You can do this task without making any mess if follows these tips. Although these will find in different lines of this writing, but this bullet point helps to make you more confident and correct in this way.
Place a sectional sofa opposite the focal point of your living room
Add a lamp with small coffee table when you have chosen an extra chair or loveseat
Do not block entrance or window with sectional or other seating options
Keep ottoman or coffee table in front of couch
Make appropriate passage for smooth moving
Leave the right amount of space around the sectional, not to push against the wall
Put a small table to arrange sectional sofa with chaise
Consider greenery next to this to make illusion having more
See More: How to Refinish a Dining Room Table
Conclusion
We know before doing this practically you cannot realize how much this writing helpful for this journey. In this writing how to arrange sectional sofa in living room we have learned thoroughly with steps and additional efficient tips. A sectional sofa in living room, except this you cannot imagine comfortable. Time-pass or eye cation decor. Which also required right arrangement and can be headache you any homeowner.
For bigger seating capacity you should arrange this first keeping eye on all activities will complete in the entire room. So you must have blamed look and coherent placement with others furniture which placed side by side of its.
To ensure welcoming feel with you do not need to take help of professional rather following this writing and feel free to ask anything through our comment box.