One of the most challenging things is decorating dining room shelves with functionality and eye catchy. Usually, your dining room have built-in shelves or floating. You should have known very well. You need to keep to know how to Decorate Room Shelves. it is not all about serving and eating food but rather a place to spend quality time with near and dear ones.
As an entertainment and celebrating spot for different important events dining places requires well and clean. Decorating to access things easily and showing the accessories what actually you want. We know this task seems simple not really, but a few key consideration makes the shelves perfectly decorated. Even these ideas allow several changing styles with central pieces even in different seasons.
We put together these ideas. It is not required a large investment of time and patience but rather simple tricks. Addition of fewer decoration pieces you can bring elegance instantly.
How to Decorate Room Shelves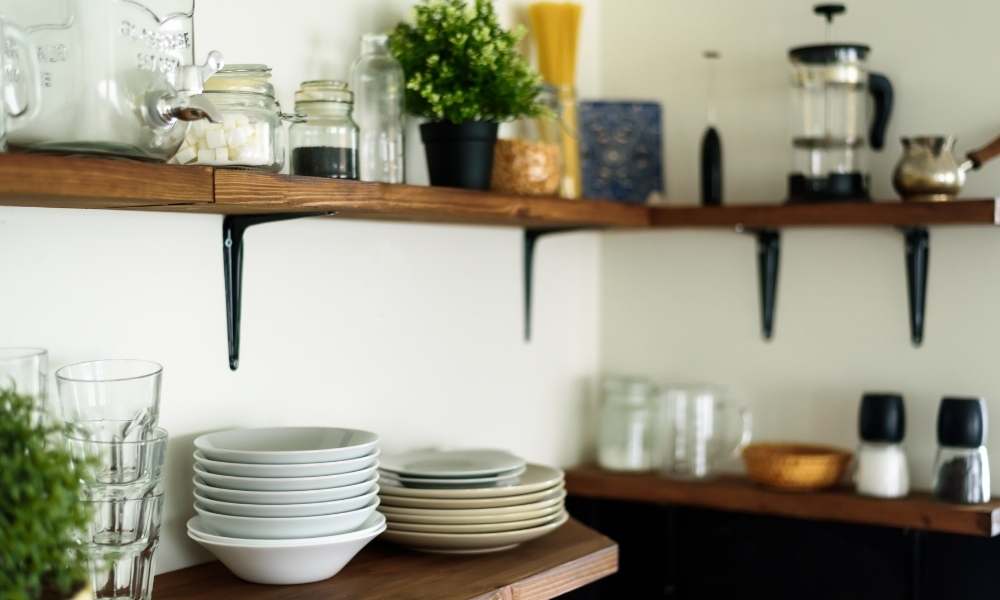 Step -1: Clear off all the things
We suggest starting with a blank slate when you are trying to figure out how to decorate the room or others shelves. Clear off all the things which help to divide your things into sections before starting anything. To give a new look to decorating around them this plan works efficiently in figuring out how to decorate.
While one huge blank space helps you to set mind tricks making the process of decorating room shelves less irritating. Depending on your shelf space and things to decorate from top to bottom.
Step -2: Create visual balance
You cannot deny the visual balance at the time of decorating dining shelves It influences the overall design no matter whether you are planning for single wall things or separate floating ones. While a balanced design feels comfortable and an unbalanced design feels chaotic for any decor type. Usually, the visual balance did not mean only the size of objects. Rather their shape and color also impacted their location of them.
Creating triangle angles is a well-known designer technique that allows eye-pleasing and great balance on shelf decor. You can choose your own styling as while objects on each sheep in a triangle pattern while silver or blue can line between green or silver. Without compromising looked pleasing with objects placed to make such imaginary lines where group and spread things done by layers and colors them.
Step -3: Make it functional
In the way of making a welcoming room, you should think to place at least one center about good food displaying which are beautiful and useful as a color-coordinated jar of dry goods like beans, pasta, spices, and oats or arrange a fresh fruit bowl. Here as a decorative space create a dedicated cookbook and bookends shelf to show up your collection and taste.
Choose a shelf for baking kits and a drink station with decorative and essential wine and liquor bottles with your collected elegant glassware. If you have floating shelve or build-in dining shelves these ideas could be applied to both of them as a personalized culinary theme makes everything easily accessible and nicely displayed.
Step -4: Add accent pieces
If you want to bring more colorful shade to decorating dining room things consider walls that can enrich the final look of the entire place. You can choose a series of two or three matching works above your shelves or hang a bold artwork centered position over the shelf. Beside these hang a mirror to the side or above the shelf which instantly opens up the space and reflects the lights to brighten up even if you have odd space and insufficiency of needed lighting.
On the contrary, accent light adds the warmth of art shelves whatever style and design you picked. Even painting of the wall and shelf can be impacted while you can balance with contrasting or matching look per your decor need and preference.
Step -5: Position things rightly
Of course, your shelf has various numbers of shelves, and need to style each of them varied themed with the balance of heights, layered texture, and grouping of the object we have already said to you. For example, stacking books can make fantastic perches for the meaningful objects you want to keep in focal points, and frames layered in front of vases to add interest can be a principle to decorate room shelves.
You will find perfectly styled things with stacked books, items on top, leaning objects in front, and layered a variety of textures and colors to help you explore visual triangles and groping of the object correctly. Even you are grouping books organizing them by size, color, and stacking books vertically and horizontally with a balance. When it comes to beautifying the dining adding framed artwork, photos and other decorative objects is compulsory to add.
Step -6: Take advantage of the basket
There is no doubt baskets are functional in your room, but these also could be handy to decorate dining room shelves. You can hide ugly and unnecessary things which can make the shelf cluttered. For any open shelves' basket are efficient storage not only for dishes of spoons rather books.
See More: Best Wall Lights Reviews
You can choose an attractive and simple color palette basket to store things by groping inside them. And a paper-covered or fabric magazine holder can hide cookbooks or deep trays, as well as a basket, containing napkin to spoon organizer in your well-decorated kitchen shelf.
Step -7: Keep things simple yet unique
The rule of thumb is to make function decor eye pleasing. To do this keep plenty of baskets on lower shelves with necessities to access them in need. Baskets, boxes, and other containers are good items to create repetition on shelves for visual impact.
Step -8: Include greenery and sculpture objects
Nothing can beat the freshness of a couple of plants. Like blossoms or edgy succulent or indoor plants for any space even on dining shelves. So, Depending on the texture of your item fresh flowers or beautiful cored micro greens herbs can easily add life to your place. Adding Plant's  is c a never flop idea for any space of your home or office. For absolute visual appeal, you must consider lovely plants which could be real or fake.
If there are unusually shaped statement pieces such as metallic orbs and small trophies or others try to give its own group with similar items for one of the shelves to make it punch of elegant taste.
Step -9: Give the final look
While you want to make the sure appropriate decoration of your room shelves. You should take a step back to look at your shelves. Take a critical look when you are thinking the task is completed. For better effect take just one item away and try to find the difference. Do not hesitate to ask another member of your family or friends about this change. To analyze the entire process take snap pictures with your phone. At the time of starting or different steps of changes those help to develop the entire decoration nicely.
Important tips for how to decorate dining shelves
These are the highlighted points. We also said in this writing multiple time that this section help to reach your target with safer feet. Check out twice to make sure perfect everything in how to decorate dining room shelves.
Do not overcrowd your display which makes it difficult to find and focus on important objects.
Leave some empty space on your display self for coherent look creating.
Fill the right height of the display space for an eye attraction effect.
Display the best things which you like most
Start with empty space and removed everything before starting to arrange.
The back wall of your shelf needs your attention. If it is a light color display darker items and if it is darker display lighter items.
For an elegant look, you choose a mirror or wall as the back wall of your shelf.
Giving importance to arranging items symmetrically for traditional space. Same visual weight with different shapes or sizes matters but in a contemporary look space, an asymmetrical display is worthy.
When you have a huge collection of things put all similar items together as a group. Rather than spreading different shelves.
Conclusion
When it comes to the matter of how to decorate room shelves. You will get chances to display your favorite things. It not only decorates the setting but also adds character and depth to the space periodically or regular basis. It shelves must fill with beautiful, meaningful, and functional things where the main motto will keep items less but not too empty look. You should have picked up a few tricks along the way usually you have followers to do.
These easy styling tips will make you confident to complete the task easily. Usually, dining room shelves are the focal point of the entire space, and you should feel right in decorating this. With our steps and unique tricks, you can change this several times in various seasons and occasions. We only discussed here the main principle. Won't let you go down even if you are doing this without taking anyone's help.
So enjoy your task on how to decorate dining room shelves with our guidelines. Share this on your favorite social media to help others who struggle with this!