Nothing could be better than a kitchen with organized drawers and cabinets. But you should have good knowledge of how to organize kitchen drawers and cabinets, and we will discuss this here throughout the writing. Like most your cabinet and drawer also have dishes, cookware, ingredients, and more.
At the time of storing and organizing you should keep several things in mind such as easy access. To make your kitchen the perfect place for cooking, eating, and entertaining you should confirm the organization of drawers and cabinets smart and comfortable. You can go with groping items or string them near to complete confusing free cooking or serving tasks.
It seems hard to find from where you will start and choose which step should be following after one after another. To help, we are preparing a quick guide to find out the best ways to organize your and cabinets without making the entire process crucial for you.
How to organize kitchen drawers and cabinets
A fresh perspective and organized look can be ruined an entire house easily by a cluttered one. People get confused even if they are done this several times. With proper guidelines, this won't be difficult anymore. Whether you are making nightly dinner or daily meal prep organized cabinets will help you as an experienced hand. So learn with us how to organize cabinets:
Take everything out
Start with emptying the kitchen cabinet and drawer respectively. Place the things on your countertop or table to reach them easily at the time of rearranging. Try to organize each type after another dividing them into three piles such as one for donating, one for garbage, and one for keeping back.
This step helps you to get rid of don't use, missing parts of things, and broken items that will eat valuable space unnecessarily. Plus, through this time you can make difference in what you actually want and what not. Donating extra things saves space in your tight cabinet and helps someone who needs this.
Spread liner for higher protection
No matter whether you have wood or other material made the cabinet to increase durability lining the cabinet and gripping the shelf liner on the bottom of the drawer is a necessary step before any planning to rearrange your supplies. To ensure great stability to the base of the cabinet drawer to prevent falling and slipping in the item and protection from watery damage.
See More: Best LED Lights For Ceiling
We suggest using a sturdy beaded grip liner to avoid slippage and a ribbed shelf liner could be a great choice for pantry shelves where you usually store plates or dishes not required much grip and use frequently.
Wipe Down Cupboards as Well as Cabinets
With a moist fabric clean the dirt and crumbs out of them all the surface areas of nooks and crannies. If your closet, as well as cabinet, has any type of splatter or stubborn oil you need to try cozy water as well as recipe soap cleansing service to obtain the shiny effect. As a matter of fact, to remove substances stuck on rack surfaces do not be reluctant to use the all-purpose brush to scrub the cozy water and meal soap cleansing. After wiping down you should utilize a clean and also completely dry fabric to dry all the surface areas to prevent damage from added water.
Find a spot for everything
We have already said putting all things together by their types and functionality is a wiser footprint in how to organize kitchen way. Up to your convenience of using figure out the best spot for things. Here you can keep your spatulas, whisk, measuring spoons and cups, towels, and other things individual to make sense to keep them in a definite place.
Yet, keep this usually used thing close to the stove to reach them easily. For example store dishes close to the dishwasher to make the unloading process easier.
Consider consumable need
Relying on the daily demands of consuming food make a section of shelves or cabinets just for food. To make quite certain at the time of locating them arrange this room by day-to-day palatable such as completely dry fruit, crackers, nuts, and also more. Besides this make space for cooking needs like flour, sugar-baking soft drinks, and so on. You can go will smart and also an easy coordinator like careless Susan or turntable for easy reach on containers.
Shop drawer organizer
When your kitchen has lots of things and cabinets with fewer shelves and drawers you should consider drawer organizer while taking the dimension of each wide, length, and depth. These come in various sizes with dimensions that fit you're different easily. Learn More about How to Build an Outdoor Kitchen With Metal Studs.
As an example, roll-out shelves for extra deep lower cabinets are available in organizing stores with varied prices and lots of storage space. With a larger one, you can make a storage container and open a topped basket to store group-like items which won't frustrate you to keep organized cabinets.
Utensil holders and spice racks also played a good role to organize and cabinets without making clutter the entire.
Labeling everything
The kitchen includes lots of and cabinets lots of things and picks the right one even in hurry. Labeling each container decrease the risk of a potential mix of salt instead of sugar in your morning coffee. For your cupboard use a chalkboard sticker to add detailing with an expiration date.
Group clean supplies together and close
A kitchen is a place that becomes messy very quickly. You should store your cleaning supplies very close to your hand like under the sink from where you can access them easily. To make the organization united and efficient find out the expired and empty bottles and throw them in the free area.
Most important tips for how to organize and cabinets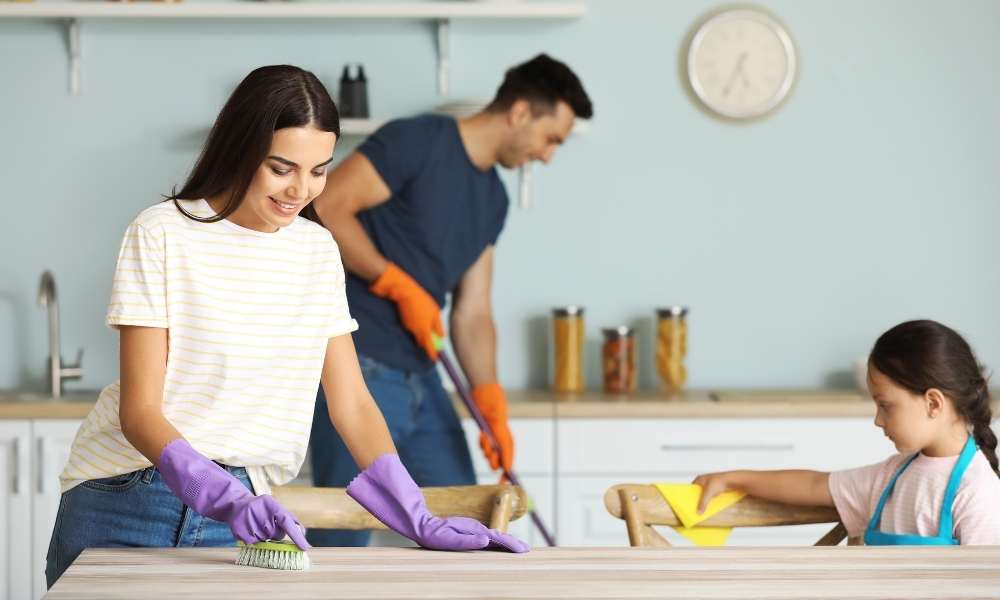 These tips help to make the entire process less complicated for you. Check out for your help.
Divide the entire per cooking, prepping, backing, washing, and cleaning.
Find an organizer which stores things vertically.
Maximize your vertical space and keep things tidy.
Try to stack pot and pan when you have multiple with the same size
Separate daily used and frequently used items
Keep heavy items such as big plates and bowls on the bottom shelves
Conclusion
Until you are not able to find reliable and effective ideas for how to organize cabinets, you could not move toward this confessional task. We do research on this topic and take interior designer help to keep the list of ideas short but efficient toward this problem especially when you do not want to make your cabinets complex peruse of the thing and or cabinet size.
How to clean Sticky Wood Kitchen Cabinets
To tackle the task have tried to remove the extra budget and the process time-consuming. This guide and additional tips help you find small things like wine openers easily even not pulling single things from your cabinet and drawers.
Hopefully, this post will be proven helpful in the long run to keep your cabinet and drawer organized.