A successful attempt for how to clean a glass top stove with burnt on food, make your enjoyment of using them up to several times. Because of sleek and minimalistic look, glass top stoves are a popular addition for any kitchen. But the problem is that even the smallest spill or splatter shows up easily, and cleaning being essential. Sometimes these spots being stubborn and do not ready to go even with chemical solutions.
There are several cleaning procedures available, but you should pick one which won't make bother you with consuming lost of time and money. If you have habit of regular cleaning, it won't worst for you with lots of spots. You should wipe the glass after every use. Don't do this when glass is hot.
To keep maintain the beautiful look of your glass top stove like a newly installed one, we have attached multiple ways and additional tips on how to clean a glass top stove with burnt on food to complete the DIY task.
Basics of cleaning a glass top stove with burnt on food
There are something which should help you in this mission. If you have a glass top stove or planing to buy, you must have a look on these tips.
Depending on your glass top stove design and type you should consult with manufacturer's representative and read the instructions which comes with it to know the suggested cleaning product and process while wrong step can void product warranty services.
Do not start to clean the glass top stove when the surface is hot.
Use microfiber cloths or sponges as soft cleaning material, while scouring pad and scrub brushes could leave a permanent scratch.
You should not be harsh to clean the surface, while some chemical ruin the longevity of the unit.
Consider Skrapr to remove stuck on masses on glass top stove without any harm.
How to clean a glass top stove with burnt-on food
Burnt food on the glass top stove is common hassle and frustration for any kitchen. Removing of them is not easy, but it takes time and arm grease. But you will please to hear that you pull out them various household and kitchen things. After a good researched we get different methods which will efficient for different food item. You can mix up them in several cases depending on spot condition
Let's talk about them and learn how to clean a glass top stove with burnt on food without leaving any scratch but provide you spotless kitchen's glass top stove.
Related: How Long Does a Kitchen Remodel Take
How can you clean glass top stove per daily routine?
Nothing cloud be helpful to clean glass top stove after every use which won't build up the collected dust and spill obstinate. You will need a spray bottle of water and microfiber cloth to clean. If you want to use distilled white vinegar, it will offer much cleaning effect.
Process
The cleaning process should start when the stove top is completely cool. Spray vinegar or water on the glass top stove. After that, wipe the liquid away with the microfiber cloth. Rub up the things on the spot and finally wipe down with dry cloth. This process makes the monthly cleaning task much easier and perfect.
Method – 1 Cleaning glass top stove with baking soda
Deep cleaning of a glass top range with scorched on food for regular monthly or biweekly baking soda is a trusted cooking area points. You need to take care of cooking soda, a spray container of distilled white vinegar, a tidy towel, a tidy sink container or bucket full of warm water and also microfiber fabrics.
Once the glass top stove gets cool, wipe the stove top thoroughly, which makes the rest of the process easy and efficient. You can not use cleaner on hot surface, which can damage the elegance finish of the glass top stove. To remove any loose debris as crumbs or blunt on food. When you are scrubbing with cleaning products, these might be interfering to get read of grease. Choose soft cloth, while moisture from this damp cloth help to soften cooked on debris and remove this easily.
Best Track Lighting For Kitchen
Using sodium bicarbonate and also vinegar are safe for cleaning a glass top oven with burned on food, while chemical cleaner burn the following time utilize the heater. Yet, the cooking soda and vinegar won't create this kind of difficulties. Spew the distilled vinegar over the oven surface as well as cover the surface area with cooking soft drink. To go next action demand to damp a big towel in warm water as well as lay it over the oven top after wring out the additional water. Currently wait approximately 15 minutes.
Do not use harsh fabric which can damage your range top, so choose soft fabric to rub out the residue to tidy. You should duplicate this whipping down the job till it clean perfectly. Beware to rinse the cloth, otherwise leaking can mess the place completely. If there is some prepared on food continue to be, you might require to spray a lot more vinegar on the surface to remove them and also most likely to the complete tarnish cleaning therapy again.
Method – 2 Rubbing with silicon
Silicon cook top scrubber will do magical performance to remove away almost all the cooked messes from glass top stove. Most interesting fact this that these are enough soft which won't make any scratch. This comes from innovative silicon to be durable against stubborn spot from burnt food.
If you are not ready to invest money on them, the silicon spatulas with be helpful to clean a glass top stove with burnt on food. You can spray vinegar or water on the surface and rub the spatula over the marks in a circular motion, which help to fave the back spot with the least effort. After that, wipe down the debris with cloth or soft towel.
Method – 3 Use razor blade to clean a glass top stove with burnt on food
Sometimes cleaning of a glass top stove with burnt on food being worst with blunt on rings around the burner pr epoxy like junk. To deal with these types of spot, a razor blade is a dependable if you can use that in a right way. In this cleaning method you will need a razor blade in a holder or scraper tool, distilled white vinegar in a spray bottle and a microfiber cloth.
Process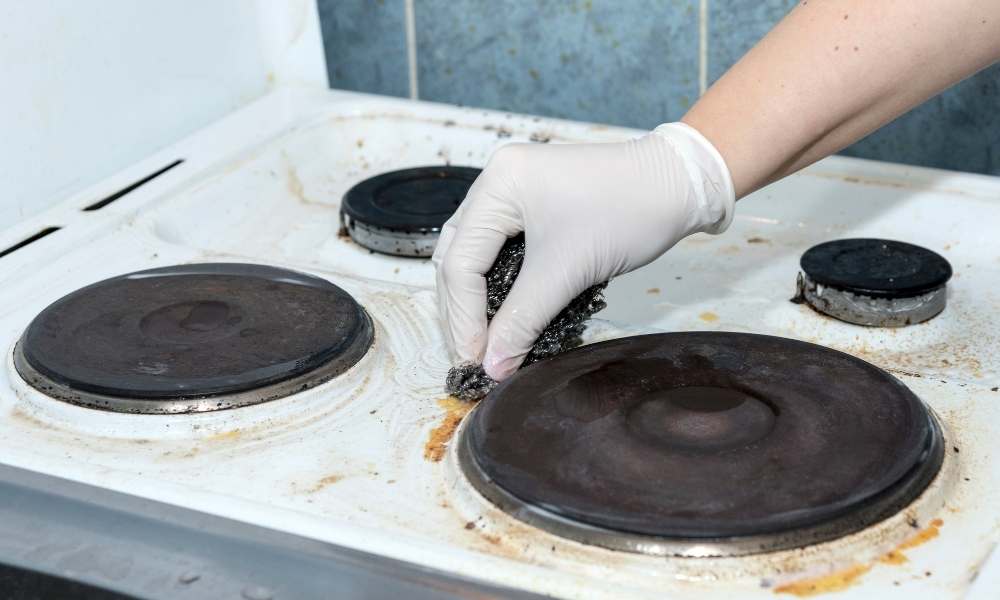 You should not go against manufacturer instruction, so check it before using a razor blade on the glass top stove. If they advise not to do that directly, which can void their warranty, you should skip this method. On the contrary, if there is no direct instruction follow our process to ensure a new looking and clean a glass top stove even there was burnt on food.
When you are sure of the cool status of the top stove, split vinegar on the adhere area of blunt on residue and scrape the dirt gently with the razor. Make sure you are holding the razor properly while you cannot use the corner of the blade, those can make marks on your glass top stove. As this may reason of digging into the stains for major scratches of the glass and won't be beautiful like a newer one.
See More : How many pendant lights over kitchen island
We suggest holding the cutting edge at a very mild angle from the top of the oven to make if flat for more secure effect. Keep continuing lightly scraping on the dirt until it goes. With a microfiber cloth, wipe away the debris. If you feel necessary, repeat the above steps fore more kitchen cleaning. This is spill free and smarter than other methods. But you should be pretty careful to hold this to prevent damage to the stove and cut to yourself.
One more thing you should bear in mind that you should spray some vinegar before starting scarping. The rule of the thumb is holding the razor blade at a slight angle and scrape at the stained areas. At the end of the procedure, wipe away the debris which already loosen. For better result keep continue wiping and scraping until you get your requiring spotless glass top stove.
Method – 4 Olive oil cleaning formulae
Once cook on gunk over the glass stove top surface you may think commercial glass cleaner which have harsh ammonia, but we suggest not to do this rather you can consider out this cleaning solutions that is mild and powerful for your purpose. In this process you will need small dish, plastic spoon, baking soda, lemon juice, soft cloth, olive oil, water mild soap, single edge razor blade and a magic eraser.
Process
Leave the burner to cool to start going cleaning procedure. So wait to completely cool the burned and arrange the listed thing to go to main process of cleaning. To loosen the stain, you can use a razor if there is a darker spot. On the contrary, for the thick stain, use a dull knife or spoon.
For lubricant coating, you can use olive oil to help loosen the cooked on debris. After 5-10 minutes of soaking, you can move to the next level of cleaning. We have already told the pattern of holding the razor and the way you will push the razor against the stain. Until your scratch won't light, you should keep continuing this step. If you have the majority of blunt food, using of razor will be satisfying. This time, mix a paste of baking soda and water in a small dish with toothpaste consistency. Cover the burnt area with this paste and wait for 10 mins till its dries out.
For faster and surprising effect, you can add lemon juice or seltzer in the baking soda. This time, need to scrub the stain with soft cloth or plastic scrubber. For a stubborn spot, you can repeat this whole process. Or pick magic eraser to remove them easily.
Don't forget to wash away the surface with warm water and mild soap when finally you are being successful to remove the burnt food and stains.
Conclusion
Hopefully this cleaning methods will make easy even the toughest blunt food and stain not only glass top stove but also other kitchen units cleaning requirements. In addition, with daily or monthly cleaning schedule, you will get a spotless kitchen glass top stove.
Depending on various types of spill, we have shared 4 different method with different house ingredient and specialized tools for this task. Though these process will take your time and patience, but result will make you happy, get rid of disgusting burnt spot on your favorite lass top stove.
So be confident with our guideline which won't let you go any wrong direction, rather satisfying methods and tips for how to clean a glass top stove with burnt on food.