Are you looking for a way to add a touch of sophistication to your kitchen décor, but don't want to go with the traditional white? Black may be the perfect color for you. While it may seem like a challenging color to work with, black can actually be quite versatile in the kitchen. Here are a few ideas to get you started. There are Black kitchen decor ideas ranging from black range hoods to wall lights.
1. Work Table Island
If you're looking for a sleek and stylish way to update your kitchen, consider a work table island. This type of island is perfect for those who like to cook and bake. The work table island comes with a built-in countertop and plenty of storage space. You can choose from a variety of colors, including black, to match your black kitchen decor ideas.
2. Add Pattern to a Kitchen
If you're looking for a way to add some pattern to your kitchen without making a huge commitment, consider painting one wall black. It's a bold move that can make a big impact, and it's especially striking in a mostly white or neutral space. Keep the rest of the decor simple and restrained to let the black will be the star of the show, or go all out with patterns and textures.
3. Rethink Fabrics
Before you go out and buy all new kitchen fabrics, take a look at your existing ones. Chances are, you can give them a quick and easy makeover with just a few simple steps. The Black kitchen decor ideas.
Start by cleaning them well. If they're stained or greasy, give them a good scrubbing before you start. Once they're clean, it's time to choose your fabric paint. There are many different types available, so pick the one that best suits your needs.
If you're working with a light-colored fabric, choose light-colored paint. The same goes for dark-colored fabrics and dark paints. Be sure to test the paint on a small area of the fabric first to make sure it looks the way you want it to.
Once the paint is dry, iron it well to set the color and help it last longer.
4. Embrace Shaker Style
If you're looking for a sleek and stylish kitchen design, look no further than the Shaker style. This minimalist black kitchen is perfect for anyone who wants a modern look without sacrificing functionality. The Shaker style is all about simplicity and functionality, so it's perfect for busy families who want a space that's both beautiful and efficient. With its clean lines and lack of fussiness, the Shaker style is perfect for anyone who wants a modern, minimalist kitchen.
5. Keep Walls Clear For a Relaxed, Spacious
When it comes to kitchen design, one of the most important things to consider is how much space you have. If it is cramped and cluttered, it can be difficult to cook or relax in there. One way to create more space in your kitchen is to keep the walls clear of cabinets and appliances. This will open up the area and make it feel more relaxed and spacious.
If you don't have a lot of counter space, you can use wall cabinets to store your dishes and pots and pans. You can also install a shelf above your stove to store spices or cookbooks. Just be sure to leave enough room between the cabinets and the ceiling so you can move around comfortably.
Another way to make your kitchen feel bigger is to use light colors on the walls and ceiling. White or pale yellow walls will reflect the light and make the room seem brighter.
6. Add Personality with Eclectic Decor
There's no need to be afraid of color when decorating your kitchen. In fact, using a variety of colors can add personality and interest to the space. If you're hesitant to use bright colors, start with neutrals and then add pops of color with accessories.
Another way to add personality to your kitchen is by using eclectic decor. This simply means that you mix different styles together instead of using all of one style. For example, you could pair a modern black kitchen with vintage farmhouse accessories. Or, you could mix contemporary pieces with antique ones. By using eclectic decor, you can create a unique and interesting space that reflects your personality.
7. Add In Feature Wall Lights
Adding feature wall lights to your black kitchen can give it a touch of elegance and sophistication. Wall sconces are a great way to add light to a dark space, and they come in a variety of styles to match any décor. If you're looking for something more dramatic, consider installing chandeliers or pendants over your kitchen island or breakfast bar. These types of lights can also help to make your kitchen appear larger and brighter.
8. Make Use of Vertical Space
Vertical space is often underutilized in the kitchen, which can lead to a cluttered and cramped look. One way to take advantage of vertical space is by using dark cabinets. Black cabinets can make a small kitchen feel larger by creating the illusion of depth. They also help to define areas within the kitchen, such as countertops and appliances. In addition to using dark cabinets, consider adding a backsplash or wallpaper that extends up the wall. This will add visual interest and make the kitchen feel more spacious.
9. High-Quality Stone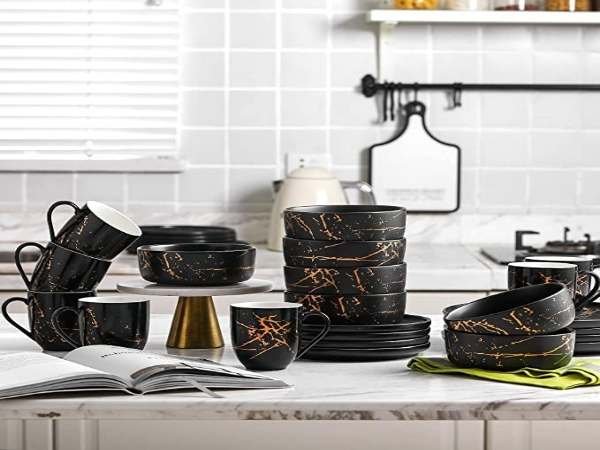 Picking the right countertops for your kitchen is important. You want something that will last and look great for years to come. investing in high-quality stones is always a wise decision. Black kitchen countertops are a great option because they can match any style of home. They also add a touch of elegance and sophistication that other materials can't match.
10. Enhance a Classic Kitchen
A black kitchen can be a great way to enhance a classic look. Consider using black cabinetry, a countertop, or even dark appliances to create a timeless look. You can also add some pops of color with accessories or artwork. It can be elegant and sophisticated, or fun and trendy, depending on your style.
11. Add Bags of Texture for Warmth
Adding black kitchen accessories can add a touch of warmth to your décor. Black kitchen accessories are not just for adding function, but they can also add visual interest and texture. Textured fabrics, such as a black-and-white gingham check or a herringbone pattern, can add visual warmth to a space. Black also absorbs light, so it can be a great choice for spaces that need a little extra warmth. When used in moderation accessories can help to ground a bright or colorful space.
12. Creative Wall Storage
If you're looking for a way to add some extra storage to your kitchen without taking up a lot of counters or cabinet space, consider using the walls. There are a number of creative ways to do this, from installing shelves to using pegboard.
One option is to install shelves along the walls. This can be a great way to store dishes, pots and pans, or other kitchen items. If you have limited cabinet space, installing shelves can free up some room. You can also buy pre-made shelves or build your own.
Another option is to use a pegboard to create storage spaces for your kitchen tools and utensils. Pegboard is a versatile material that can be used to create hooks or shelves for all sorts of items. You can buy a pegboard that is already painted or stained in a variety of colors, or you can paint it yourself.
13. Reinvent Rustic Kitchens
Rustic kitchens have always been popular, but they are being reinvented with a modern black look. Black is the new black, and it is the perfect color for a rustic kitchen. It gives the kitchen a sleek, modern look while still keeping the rustic feel.
If you are thinking about renovating it, consider giving it a black rustic makeover. It is a great way to add some personality to your home and change its look of it. Black is also a very versatile color, so it will work with any style of décor.
If you are not sure how to create a dark rustic cookroom, there are many online tutorials and DIY websites that can help you get started. Or, you can hire a professional to do the job for you.
14. Create a Bar
A black kitchen is a perfect place to create a bar area. With dark cabinets and surfaces, it will be easy to designate an area for mixing drinks and preparing food. Plus, a black kitchen will be sure to make a statement in your home.
15. Farmhouse Style
Farmhouse style conjures up images of a rustic, idyllic lifestyle complete with rolling hills, white picket fences, and a cozy cottage. While this look may be out of reach for many people, you can get a taste of it in your very own home by incorporating farmhouse-style elements into your kitchen design.
One key element of the farmhouse style is black cabinets. Black cabinets are a popular choice because they can be paired with virtually any other color and create a look that is both classic and timeless. They also add visual interest to the room and make a statement. If you're looking to give your kitchen a facelift, consider installing black cabinets.
16. Sink Skirt
Black kitchen sinks are becoming a popular choice for many homeowners. Not only do they look great, but they are also easy to keep clean. One downside to black sinks, however, is that they can show dirt and dust more easily than other colors. One way to help keep your black sink looking its best is to use a sink skirt.
A sink skirt is a piece of fabric or plastic that is placed around the edge of your sink. It helps to catch any dirt or dust that may fall off of your dishes or utensils, and it also helps to protect your cabinet from water damage. There are many different types of sink skirts available, so you can choose one that best fits your needs and style.
17. Wood Clad Walls
If you're looking for a way to add some natural warmth and texture to your modern kitchen, wood-clad walls may be the perfect solution. Wood cladding can be used on any wall in the cookhouse, and it comes in a variety of finishes to match any style. Black is a popular color for kitchens, and there are several companies that make black wood cladding. If you're looking for a high-end look, consider black bamboo cladding. Bamboo is a sustainable material that adds a touch of elegance to any room.
18. Stainless Steel
Stainless steel is a type of metal that is made up of different alloys. It is known for being durable, rust-resistant, and easy to clean. Stainless steel is often used in kitchen appliances because it does not show fingerprints or streaks. It also has a modern look that can add style to any kitchen.
19. Basket Lights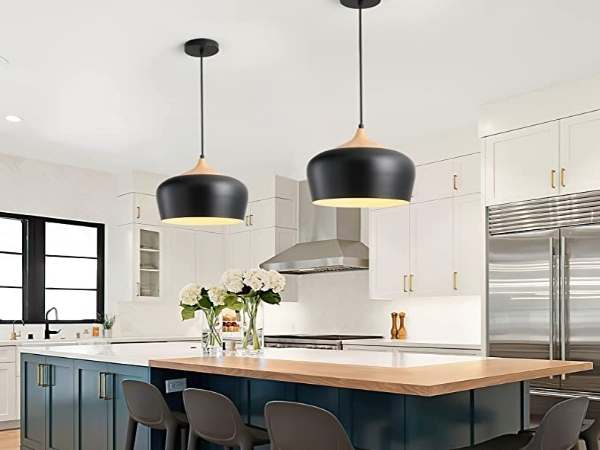 Adding a touch of whimsy to your kitchen is easy with basket lights. These lights come in a variety of shapes and sizes, but all share one common feature – a basket-like light fixture. Basket lights are perfect for kitchens with black appliances or cabinets, as they provide a bit of warmth and personality to the space.
Since basket lights come in so many different varieties, it's easy to find one that suits your individual style. If you're looking for a simple light fixture that will add some character to your cookroom, look for a basket light with a natural fiber shade. For a more whimsical look, choose a light fixture with bright colors or playful designs.
No matter what style you choose, basket lights are sure to add personality and warmth to your kitchen. So why not add one today?
20. Printed Wallpaper
There's a certain appeal to printed wallpaper. It can add an extra layer of personality and visual interest to a room, and it can be fun to switch things up every once in a while by using a different pattern or design. Plus, it's an easy way to add some color or texture to a space.
If you're thinking about using printed wallpaper in your home, there are a few things to keep in mind. First, think about the overall aesthetic of your space and what kind of look you're going for. Then, choose a pattern or design that will complement that aesthetic.
Another thing to consider is the size of the room. If you're using printed wallpaper in a small room, you may want to choose a smaller pattern or design so that the space doesn't feel too crowded.
21. Nostalgic Appliances
In the past, many appliances were either all black or had a black-and-white color scheme. Nowadays, most appliances are stainless steel or other light colors. Although some people may prefer the modern look of sleek and shiny appliances, others find themselves longing for the days of the all-black kitchen.
There is something about the all-black kitchen that just feels cozy and comfortable. Maybe it's because it reminds us of our childhood homes, or maybe it's because it's so different from the stainless steel appliances that are popular now. Whatever the reason, there's no doubt that there's a certain charm to nostalgic appliances.
If you're thinking about giving your kitchen a vintage makeover, there are plenty of retro appliances to choose from. Black refrigerators, dishwashers, ovens, and microwaves are all available on websites like eBay and Amazon.
22. Patterned Tiles
Patterned tiles are making a big comeback in the kitchen design world. From black and white checkerboard floors to colorful Moroccan-inspired designs, there's a pattern out there for everyone.
One of the benefits of using patterned tiles is that they can help to disguise any dirt or stains that may build up over time. If your kitchen is in need of a little refreshment, consider using some patterned tiles as an accent wall, backsplash, or flooring.
When choosing a patterned tile, be sure to consider the size and shape of the room. A smaller room will look best with smaller tiles, while a larger room can handle bigger patterns. If you're not sure where to start, consider using one of these popular patterns:
-Checkered floor: This timeless classic never goes out of style.
23. Checked Ceiling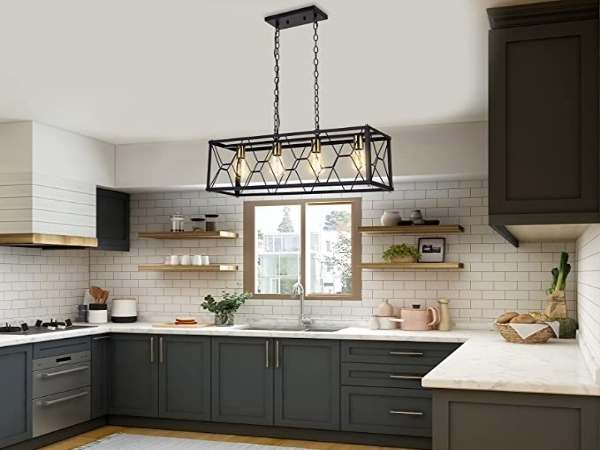 If you're considering painting your kitchen black, there are a few things you should know. Black is a bold and dramatic color that can make a statement in any room, but it's not the best choice for every space. Before you start painting, take a close look at your ceiling. If it's white or any other light color, it may not be the best backdrop for a dark kitchen. A white ceiling will make your room appear darker and smaller than it really is. If your ceiling is already dark, then black may be the perfect color for your kitchen. Just be sure to test it out first by painting a small area to see how you like it.
24. Black and White Flooring
There's something about black and white flooring that just makes a space feel classic and chic. Whether you choose to have a black and white checkerboard floor in your cookhouse or go for a solid black or white floor, the look is sure to be timeless.
One great thing about black and white flooring is that it can work in any style of home. If you have a modern home, a black and white checkered floor will give your space some edge. If you have a more traditional home, a solid black or white floor will create a sleek, polished look.
Another great thing about these two colors is that they are always in style. You won't have to worry about your floors becoming outdated anytime soon. Plus, they are easy to maintain – all you need is a good mop and some cleaner!
25. Statement Stove
A statement Stove is a stove that is designed to be the center of your kitchen. With its large cooking surface and five burners, it is perfect for big meals. The Statement Stove also features a built-in oven that can accommodate baking sheets and cake pans. Plus, the stovetop has a smooth ceramic finish that makes cleaning easy.
26. Mixed Materials
Mixed materials in kitchens are becoming increasingly popular. Both black and white kitchens have their own unique appeal, but a room with mixed materials can really stand out. Stainless steel appliances and countertops are a popular choice for modern kitchens, but they can be paired with other materials to create a more interesting look. For example, dark wood cabinets and floors can be combined with light marble or granite countertops and stainless steel appliances.
This creates a contrast that is both eye-catching and stylish. Mixed materials can also be used to create a more traditional look. A kitchen with wooden cabinets and floors can be paired with marble or granite countertops and stainless steel appliances for a sleek, updated look. Whether you're looking for a modern or traditional style, mixed materials can help you achieve it.
27. Displayed Pots
When most people think of dark appliances, they think of a dated look. However, there are many current designs that make use of black appliances and display them in a stylish way. One option is to use all-black appliances or mix and match them with other colors. Another option is to use black as an accent color.
Regardless of the design, using black appliances can be a great way to add some personality and style to it. It can also be a way to show off your unique personality and style. And, if you're looking for a modern or contemporary look, black appliances can be a great way to achieve that look.
28. Eye-Catching Backsplash
Remodeling a kitchen can be a daunting task, but it can also be incredibly rewarding. When it comes to the backsplash, there are endless possibilities. One of the most popular choices is black.
A black backsplash can add drama and visual interest to a kitchen, while also creating a sense of unity and cohesion. It can be used in both traditional and contemporary kitchens, and it pairs well with a variety of other colors and materials.
If you're considering a black backsplash for your cookroom, there are a few things to keep in mind. First, make sure that the rest of it is light-colored or white, as too much darkness can be overwhelming.
Also, consider the style of your home. A sleek, modern black backsplash may not be the best fit for a traditional farmhouse kitchen.
29. Terra-Cotta Tiles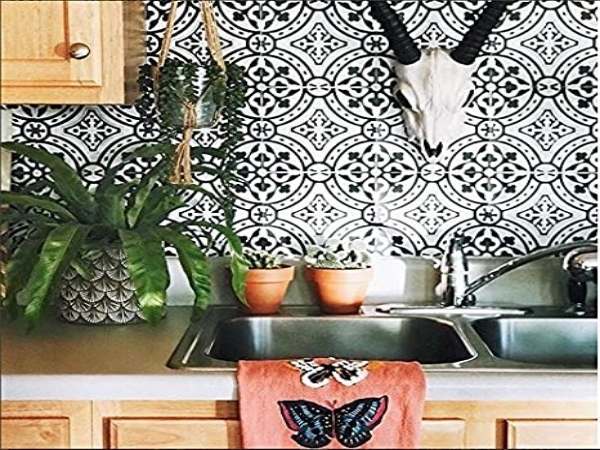 Terra-cotta tiles are often used in kitchens because of their natural color and ability to withstand high temperatures. The tiles can be used on the walls or floor, and they come in a variety of shapes and sizes. Terra-cotta is a type of clay that is fired at a high temperature, which makes it durable and easy to clean. It is also resistant to staining and fading. Black kitchen terra-cotta tiles can create a dramatic look in any room, and they are perfect for creating a rustic or Mediterranean vibe.
30. Black Appliances
Are you considering buying black appliances for your kitchen? There are a few things you should know before making your purchase.
For starters, black appliances can be very energy efficient. In fact, some models are up to 25% more efficient than their white counterparts. This is due to the fact that black appliances absorb less heat, which means they don't have to work as hard to maintain a consistent temperature.
Another advantage of black appliances is that they can help to create a sleek and modern look in your cookhouse. If you're looking to update your décor, black appliances may be the way to go.
Keep in mind, however, that black appliances can also show fingerprints and smudges more easily than other colors. So if you're not prepared to do a lot of cleaning, you may want to consider another option.
Conclusions
In conclusion, black kitchen decor can be a beautiful addition to your home. It can be used to create a sleek and sophisticated look or a cozy and comfortable one. There are many different ways to incorporate black into it, so you can find the perfect look for your space. If you're ready to add some black magic to your cookroom, start by browsing these ideas for inspiration.