Creating a relaxing and comfortable environment in the bedroom is essential for a good night's sleep. Black and grey bedroom ideas provide an elegant and sophisticated look that can be achieved with just a few decor choices. With the right combination of colours, textures and furniture, a black and grey bedroom can be cosy yet sophisticated. With the right furniture, accessories and design elements, you can create an inviting space where you'll love spending time. Whether you're looking for modern or traditional decorating ideas, this article will provide guidance on how to combine black and grey in your bedroom.
1. Add Elegance To The Bedroom With Black Walls And Grey Carpet Flooring
Black and grey are classic colours that will bring a sense of elegance to any bedroom. Not only are these classic colours easy to match with any existing decor, but they also provide an atmosphere that is both calming and stylish.
The key to creating a beautiful black and grey bedroom is choosing complimentary shades. Dark walls paired with light grey carpet flooring offer a striking contrast that will immediately draw attention in the room. For added impact, select furniture pieces with metallic accents or bold patterns – this will help tie together all of your elements while adding visual depth and interest. When it comes time to accessorise, simple silver frames or charcoal-coloured throw pillows can serve as great accents without distracting from your overall look.
2. Use A Striped Pattern Wall With Interesting Accent Colours For Your Experiment
A black and grey striped pattern wall is a perfect choice for those who want to experiment with colour in their room. The contrast between the two colours will help create depth and texture in the space, while still making the area look sleek and modern.
By incorporating other accent colours into this patterned look, you can further enhance its visual appeal. Choose complementary colours like navy blue or deep burgundy that will contrast with your black and grey tones. This will break the monotony of having only two shades on your wall and still maintain an overall cohesive style throughout your bedroom. You can add pops of colour through pieces of furniture, artwork or decorative accents like throw pillows or rugs to bring more vibrancy to the space.
3. Go For A Traditional Bedroom With Themed Black Furniture And Patterned Grey Sheets
Bring a traditional yet sophisticated look to your bedroom with black furniture and grey patterned sheets. With this classic combination of colours, you can create a timeless style that looks great in any home.
Start by picking out some statement pieces like a four-poster bed or an armoire in black for an impressive appearance. Add some accent pieces such as pillows and throws that feature different shades of grey for added texture and dimension. To complete the look, add patterned grey sheets that are sure to make your bed feel comfortable yet inviting each night. With this simple styling idea, you can create a cosy atmosphere without sacrificing on style!
4. Bedroom With Grey Walls, Grey Bed And Polished Black Floor
This black and grey bedroom is the perfect combination of contemporary and classic design. Featuring a crisp palette of charcoal walls, ash grey bedding, and a polished black floor, this room offers an eye-catching look that's sure to make any guest feel right at home. The sleek lines of the furniture offer a modern touch that evokes sophistication, while pops of colour in the artwork add dimension for an inviting atmosphere. This beautiful bedroom also provides plenty of space for storage with built-in drawers in the bed frame and nightstands.
5. Add Adventure With A Fun Feature Wall
Create a stunning focal point with a vibrant mural that takes up an entire wall or opt for something simpler like light-coloured paint splattered on a dark backdrop for a more subtle approach. There are also several unique ideas for incorporating texture into your feature wall with materials such as wood, fabric, and tiles creating depth in an otherwise monochrome room. Add pops of colour by displaying artwork or hang strings of fairy lights that sparkle against the backdrop of your feature wall at night.
6. Try A Bedroom With A Black Headboard, Grey Walls And Warm Lighting
A black and grey bedroom can be a stylish and sophisticated way to add drama to your home. By combining a black headboard with grey walls, you can create an intriguing space that is full of personality.
Begin by selecting a simple black headboard for your bed, such as one made out of wood or metal. This will act as the focal point of your bedroom, so make sure it stands out. Next, select soft shades of grey for the walls that will complement the headboard without being too dark or overwhelming. Finally, choose warm lighting fixtures such as table lamps or wall sconces that will give off an inviting glow in the evening hours. With these elements combined together you'll have created an elegant and contemporary bedroom design that is sure to impress guests!
7. Add Modern Objects And Art Works
Creating a modern black and grey bedroom can be an exciting challenge. With the right combination of objects and artwork, it is possible to make your bedroom look stylish yet comfortable.
Firstly, choose furniture pieces with clean lines in shades of black or grey. Consider options like leather headboards or upholstered bed frames for a contemporary look. Similarly, opt for tables, chairs and stools that feature sleek designs in muted tones. Accentuate the decor with metallic lamps or vases featuring geometric shapes to give the room a chic vibe. In addition to furniture pieces, incorporate contemporary artworks into your design plan as they can bring colour and interest into any space without being overwhelming.
8. Add Grey Walls And Black Furniture With Brown Blinds To A Modern Carpeted Bedroom
Consider adding a black and grey bedroom design with modern carpeting, brown blinds, and sleek furniture. This eye-catching colour palette combines classic neutrals with bold components to create an inviting atmosphere that will make guests feel at home.
The key to making this look work is finding the right balance between black, grey, and brown tones. Start by painting the walls in two shades of grey for a subtle contrast. Next, choose furniture pieces in deep black hues that will provide stark contrast against the lighter wall colours. Finally, add natural wood-toned blinds to bring warmth into the space while also providing privacy when needed. The combination of these elements creates an elegant yet modern atmosphere that's sure to be admired by all who enter it.
9. Use Grey Walls With Black Curtains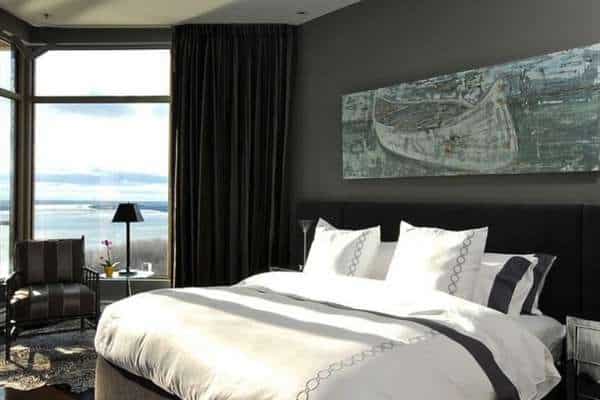 When it comes to interior design, black and grey are a timeless combination. By using grey walls and black curtains, you can create a sleek and modern look in any room of your home.
This type of colour scheme is perfect for bedrooms because it creates an air of sophistication while still maintaining the cosy atmosphere desired for relaxation. Grey walls provide the perfect base for adding splashes of other colours throughout the space, or keep it simple with black accents like pillows and rugs. Black curtains will add a dramatic touch that allows natural light to filter in during the day, yet provides total privacy when needed at night. For those seeking extra warmth, layer curtains with thermal options to help keep out drafts in colder months.
10. Add Warm Grey And Black Decor With Dark Brown Tones For A Cosy Bedroom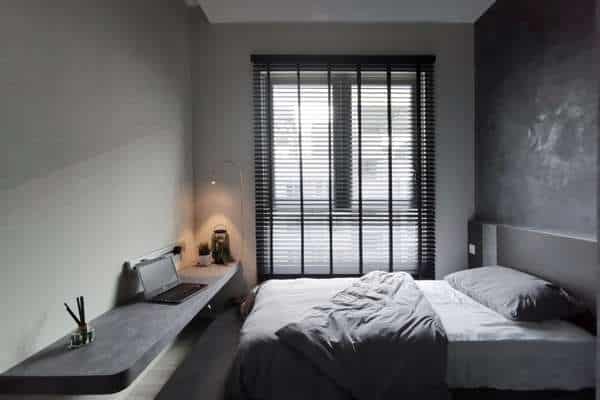 When decorating with warm greys and black, adding in some dark brown elements will help create a stylish, inviting space. To start off, look for furniture pieces like beds, dressers and nightstands that feature wood finishes in shades such as walnut or mahogany. These earth-toned pieces will bring out the natural beauty of the grey and black while adding a touch of warmth. Try incorporating different textures by pairing velvet curtains, faux fur rugs or textured bedding with these furniture pieces to give your bedroom an extra snug feeling while still maintaining its modern vibe.
11. Use Sleek And Modern Grey Bedroom
A black and grey bedroom is a great way to add a sleek and modern look to any home. The combination of these two colours creates an elegant atmosphere that can help make the bedroom an inviting space.
Begin by choosing furniture in either black or grey for the main pieces in your room. This could include a bed frame, nightstands, dresser, armchair and other pieces as desired. Adding some accent pieces such as pillows, curtains and rugs can also help complete the look while adding texture and colour to the room. You may want to incorporate some pops of colour with items like artwork or textiles to bring life into the space without overpowering it with too much colour.
12. Place A Mirror On A Black Headboard To Create The Illusion Of Space In An Apartment-Style Bedroom
Creating the illusion of space in an apartment-style bedroom can be tricky. One way to do this is by placing a mirror on a black headboard, which will then reflect light throughout the room and make it appear larger. This technique works especially well with black and grey bedrooms, as the colours create a bold yet modern look.
The mirror should be hung securely onto the wall and positioned so that it reflects as much light as possible into the bedroom. If you are unable to hang a large mirror directly onto the headboard, you can opt for smaller mirrors placed around it. When placed strategically, these small mirrors will create depth and give your bedroom an added touch of sophistication. Additionally, using lighter bedding materials such as cotton or linen will also help brighten up the room and make it feel larger than it really is.
13. Add Grey Walls With Black Bed
Creating a dark and grey bedroom is an easy way to add a sophisticated touch to any home. With the addition of grey walls, this look can become even more stylish and modern.
When decorating with this colour scheme, it's important to choose furniture that won't clash with the bold colours you have chosen. Choose pieces made of metal or wood are great choices for this look as they provide contrast against the dark walls without detracting from them. Add texture through throw pillows and rugs for added depth and an extra layer of personality in your space. Also consider adding accents in pops of bright colour such as yellow or green to bring some life into the room such as art prints or even floral arrangements.
14. Use A black And Grey Bedroom With Colourful Accents And Wall Art
Using these two classic shades as the base for a bedroom creates a stunning backdrop. Allowing you to add colourful accents and wall art to bring your space alive.
You can start by adding pops of colour through textiles, like bright bedding or curtains. Add some vibrant accessories such as colourful rugs, cushions and throws for visual interest. To make the room look cohesive, try sticking to one or two main colours throughout the room; this will draw out the statement pieces you have chosen. If you want something more unique, opt for artwork with bold geometric shapes or abstract designs in complementary hues. Finally, hang some stunning wall art that ties all these elements together into a harmonious ensemble.
15. Gray And Black Bedroom With A Hardwood Floor
Whether you prefer an edgy, modern look or something more classic and traditional, a black and grey palette makes for great decor. And when paired with hardwood floors, the result is an elegant yet luxurious look.
Creating this type of bedroom style can be easy if you plan ahead. Start by choosing a colour palette of black and shades of grey – from light to dark – that will form the basis of your room design. Choose furniture pieces in various shades of these two colours and accent them with metallic hardware like silver or bronze knobs or pulls for added texture. Look for bedding options in solid colours as well as patterns such as pinstripes, chevron, or subtle prints for visual interest.
16. Add Wood Texture And Personal Memorabilia For A Black And Grey Bedroom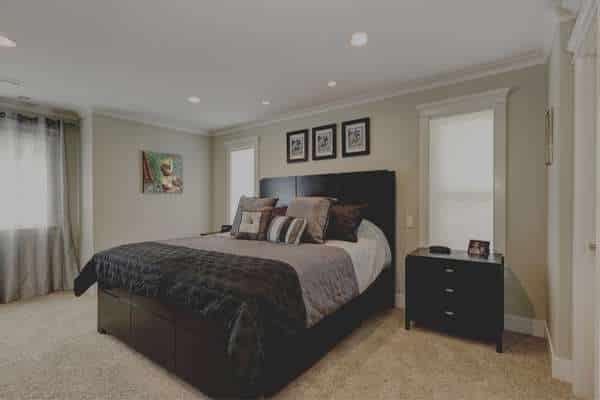 A dark and grey bedroom can be transformed into a cosy, inviting space with a few simple additions. Wood texture and personal memorabilia are an easy way to make the room feel more intimate and inviting.
Adding wood accents such as wooden nightstands or shelves can bring warmth to the room. You can also hang wooden frames with photos of your family or friends for personal memories that will create a homey atmosphere.
Large area rugs in earth tones will add texture and break up the monochrome colour scheme of black and grey.
Layer up the bedding with colourful blankets, decorative pillows, and throws for extra interest in the room. These small touches will turn an ordinary dark and grey bedroom into an extraordinary place you'll love spending time in!
17. Combine Colours
For a simple, balanced look, combine black and grey in equal parts throughout the room. Try painting the walls a light grey colour and then add touches of black with furniture or accessories like bedding, rugs or throw pillows. You can also use different shades of each colour for added depth and texture; dark greys and charcoals work especially well alongside lighter tones such as steel or ash greys when paired with matte black accents.
18. Maintain Lighting Consistency
Maintaining lighting consistency in a dark and grey bedroom can be daunting, yet highly rewarding. By creating the perfect balance of light levels, you can create an atmosphere that is both relaxing and conducive to a good night's sleep.
The key to achieving this goal lies in understanding the nuances of light within a space. Achieving the right amount of light depends on the size and layout of your room, as well as what type of furniture and furnishings you have chosen. For instance, if your bedroom has large windows with lots of natural light coming in, then you may want to consider using thicker curtains or blinds to allow some control over how much sunlight enters the room.
Conclusion
Black and grey bedroom ideas can be used to create a modern, sophisticated oasis that can be the perfect place to relax and unwind. From bold designs with intricate details to subtle hues and textures, these colours provide a timeless backdrop to any room. Whether you're looking for something simple and classic or something more unique and daring, dark and grey are sure to add some much-needed interest to your space.