Bedroom doors can be a canvas to express your unique style. There are no limits to designing the perfect door for your master bedroom, guest room, or any other room in your home. Whether you prefer something modern or classic, adding a personal touch to each room's entrance can make all the difference. With so many options available, choose which door concept is right for you.
Wood Door with a Wooden Surface
Wooden doors make a great addition to any bedroom, providing both convenience and privacy. Not only are they aesthetically pleasing and stylish, but with the right type of wood, they can last for years to come.
When it comes to wooden bedroom door selection, there is no shortage of options in terms of materials and finishes. A wood door with a wooden surface offers the perfect combination of beauty and durability. It can be stained or painted in any number of colours to complement the style of your home's interior design. Furthermore, the natural grain in wood adds texture, giving it an extra layer of interest that will look beautiful year after year.
Sliding Glass Panels to the Master Bedroom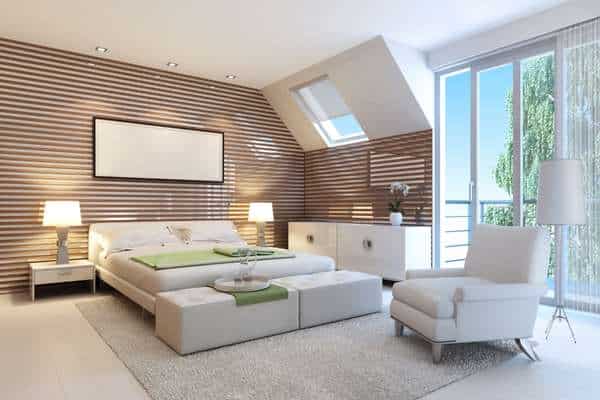 Adding sliding glass panels to the master bedroom is a great way to add both style and function to your home. Sliding glass panels offer several benefits that traditional doors do not, such as providing additional natural light while still offering privacy when needed. They also provide an easy transition between indoor and outdoor living spaces, creating a beautiful open concept.
Sliding glass panels are typically made out of two or more tempered safety-glass sheets set into a frame. This makes them very strong and secure, perfect for the main bedroom in your home. The panel system allows you to easily slide one side of the door off its track for quick access between rooms, or even onto an outdoor patio area if desired. They also come in several different styles, so you can find the look that perfectly suits your decorating needs.
Use Decals or Stickers for Your Door
Decals and stickers are a fun way to customise your bedroom door. They come in all shapes, sizes, and colours and can be used to brighten up any space. Decals or stickers can add a personal touch to your room that will make it truly stand out from the rest.
Whether you want something simple like a small heart decal or something more elaborate like a full mural. There are plenty of options for you to choose from. Stickers are great for adding bold splashes of colour that will draw attention to your door as soon as someone enters the room. You can even use them to create unique patterns and designs that will become part of the overall decor in your bedroom.
The Golden and White Mural Door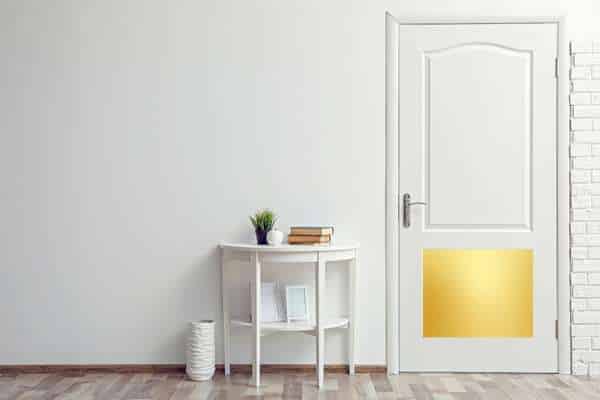 The golden and white mural door is the perfect addition to any bedroom. Handcrafted with a unique design, this decorative door will be sure to turn heads and make a statement. With a bright golden hue and intricate white detailing, it adds an exciting flare of personality to your home decor. Whether you're looking for something to enhance your bedroom's charm or want to make an interesting focal point. This beautiful mural door is the perfect choice.
Use Opaque Glass-Lined Door
Opaque glass-lined doors are the perfect solution for transforming a bedroom into a cosy and inviting space. By using opaque glass-lined doors, homeowners can create a feeling of privacy and intimacy while still allowing natural light to brighten up their room. The use of these types of doors also adds an interesting visual element to any bedroom, creating a unique look that stands out from other interior design options.
Decorate Using Wooden Moulds
Wooden moulds are a great way to add an interesting and unique touch to your bedroom door. With the right selection of wooden moulds, you can easily create an inviting and stylish look for your bedroom entrance.
Sculpted wooden moulds provide an array of options when it comes to decorating your bedroom door. From intricate geometric designs to whimsical animal shapes, these pieces will give your space a one-of-a-kind feel. The wide variety of colours and styles also allows you to choose the perfect option that fits in with the rest of your home décor.
Read More: Master Bedroom Door Ideas
Make a Fresh Coat of Paint
Making a fresh coat of paint on your bedroom door is one of the easiest ways to give your home a much-needed upgrade. Whether you're looking to revamp an old, worn-out door or simply want to bring in some new style, painting can be the perfect solution. A few cans of quality paint, brushes and rollers are all that's needed for DIY transformations.
With just a few hours of work and basic knowledge of the painting process. You can breathe new life into your bedroom door. Start by removing any existing hardware including hinges and handles. Then use sandpaper or steel wool to rough up the surface before applying primer – this will help ensure even coverage of your chosen colour.
Add a Photo Wall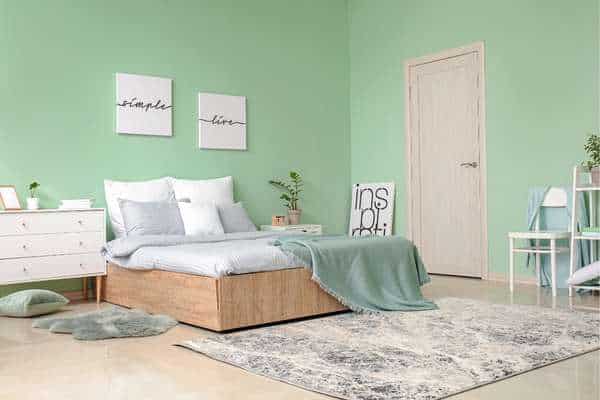 A photo wall is a fun way to add personality and life to any room in the house—especially your bedroom! Installing a photo wall near your bedroom door can give you an instant pick-me-up as you head out for the day. And when guests come over, it'll be sure to turn some heads. With all of the creative ways to hang photos, there are lots of options available for you to make something that's truly unique and special. To get started, decide what type of layout or design you would like on the wall and then gather photos that fit into the scheme.
There are many easy methods for hanging pictures with wires or frames depending on how permanent of a display you want in your room. Then if desired, use other decorative items such as mirrors or flowers to complete the look. The possibilities are endless so have fun and get creative!
Adhere Self-Adhesive Wallpaper to the Walls
Creating a unique and stylish bedroom door is easy with the help of self-adhesive wallpaper. This form of wallpaper allows you to apply wall decor without the need for glue or paste, making it an ideal choice when it comes to adding a splash of colour and texture to your home's interior. Self-adhesive wallpaper can be applied directly onto any clean, flat surface in just a few simple steps. Start by measuring the width and height of your bedroom door before cutting the self-adhesive material to size.
Make sure that there is at least an inch of overlap on each side as this will create a seamless finish once fully applied. Once cut, peel away the backing paper before carefully sticking the adhesive side onto your door frame, pressing firmly along all edges until secure.
A Fancy Frame Door
The beauty of a fancy frame door lies in its versatility. Available in an array of colours and styles, you can customise it to perfectly fit the look of your room. Whether you opt for an antique finish or something brighter and bolder. These doors are designed with modern convenience in mind. For added security, many models feature double locks and reinforced hinges for extra protection against intruders. Additionally, their lightweight design makes them easy to install while still providing reliable strength and stability.
Add a Mirrored Door
Adding a mirrored door to your bedroom can make a big difference in the look and feel of the room. Mirrored doors are an affordable way to add style and light to any space. They're a great choice for bedrooms where natural light is limited. A mirrored door will help open up the room and make it appear larger than it actually is. The reflective surface also helps bounce light around, which helps to create a brighter atmosphere in dimly lit rooms.
You can purchase pre-made mirrored doors from most home improvement stores for convenient installation. Depending on your budget, there are also many creative ways to DIY a mirror using simple materials like wood or plywood, mirrors, glue and screws.
Add Blue Glass and Wooden Doors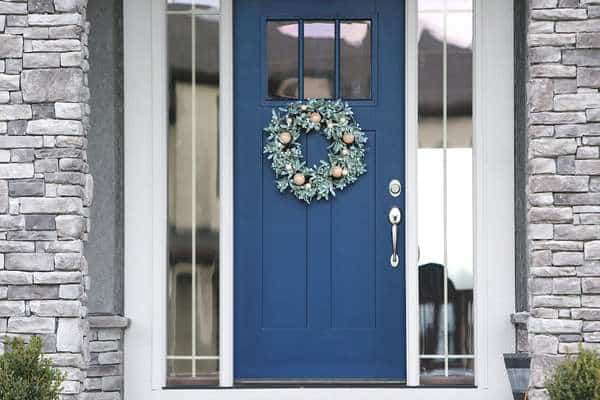 This modern look is sure to give your room a fresh and stylish makeover. Blue glass doors will illuminate the space with natural light during the day. While also providing privacy at night with its frosted texture. By combining this beautiful style of door with a traditional wooden frame. You can create an eye-catching statement piece in your bedroom.
The combination of blue and wood creates an interesting contrast that adds depth to any space. Additionally, if you're hoping to achieve more functionality from your bedroom. These two materials can easily be combined together with additional features such as locks or handles for increased security or convenience.
Book Shelves Feature Doors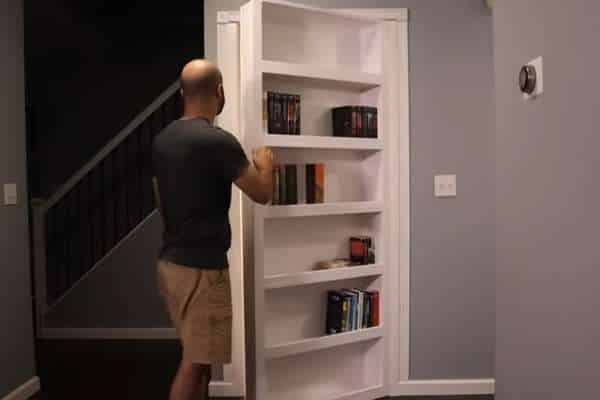 Book shelves featuring doors can be a great addition to any bedroom. Not only do they provide extra storage space, but they also add a stylish, contemporary touch to the room. Doors on bookshelves are useful for hiding away items that don't have an attractive look or take up too much space in the room. Plus, having doors can keep dust and debris out of stored items and help maintain a neat and tidy appearance.
Doors come in various shapes and sizes so you can be sure to find one that fits your decorating needs. From glass-panelled French doors with intricate designs to wooden panels with decorative handles, there's no limit to the style options available. When it comes to door bookshelves for bedrooms. Doors can also be made from a variety of materials depending on your preferences and budget including wood, metal, plastic or fabric.
A Colour Screen
One of the most recent trends is having a colour screen fitted in your bedroom door. This innovative feature allows you to customise the entranceway to your room and express yourself through creative designs.
Colour screens not only serve as an aesthetically pleasing addition to any bedroom. They also provide a feeling of privacy and security for those who choose them. By having control over what people can see from outside your room. You can create an atmosphere that feels more comfortable and inviting. common.
Accordion Room Divider
When it comes to adding a touch of privacy and creativity to your home, an accordion room divider is the perfect solution. This unique piece of furniture can be used as a bedroom door or between two rooms. It brings texture and style while also providing an effective way to separate spaces without sacrificing natural light.
In addition to its aesthetic value, this type of room divider is incredibly practical and versatile. Accordion doors are lightweight but durable enough for everyday use in any area of the home. They come in various sizes, styles, colours, and materials so you're sure to find one that fits your needs and décor preferences.
Add Dutch Door
Are you looking for a way to spruce up your bedroom? Adding a dutch door could be the perfect solution. Not only does it add character and charm to any room, it can also be incredibly practical.
Installing a dutch door is an easy way to give your bedroom a unique look and make entering and exiting easier. It's also great if you have small children or pets that need access to certain parts of the house. As the top and bottom halves of the door can be opened separately. Additionally, they provide ventilation while still giving you some privacy in your room.
A Side Sliding Door
A side sliding door is the perfect choice for a bedroom looking to upgrade its style and make life easier. This type of door will bring with it many advantages, both aesthetically and practically, while also offering an innovative design that will be sure to impress.
Side sliding provides homeowners with the flexibility of having a fully functional door without taking up too much space. This is especially useful in smaller bedrooms where space may be limited. As well as being practical, side sliding doors can add interest to a room's design by introducing an unexpected element.
Conclusion
When deciding on the perfect bedroom door, there are many options to choose from. From barn doors to pocket doors, bi-folding doors and sliding doors. You can add a unique style to your home while also enhancing your privacy. Additionally, don't forget to consider budget-friendly options such as paint or a wall sticker if you are looking for some quick and easy changes. With the right design and hardware, your bedroom door can be transformed into a beautiful addition to any home.